http://www.helpmomsprotect.com/id12.html
Help MOMS Protect   
Claudine Dombrowski
Home   AAA Importance Court A Legislative Guide Abuse and health Child Abuse Children Testifying Coaxing and Coaching Courts CPS Manuals Custody Myths Dads Domestic Violence False Allegations M.A.S.A. Our Purpose PAS Petition Quotes Raised Single Mothers Reading S.I.N. Stalking State Links and Laws WAR High Profile Attorneys The Children 
***Dyandria Darel ***Suzanne Dewalt ***Claudine Dombrowski ***Natalie Gibbons
***Mother of Katelyn ***Merry Morris *** Debra Schmidt ***Genia Stockhome***Katie Tagle ***Wendy Titelman
Please carefully view these pictures.  Notice the bruises on her arms above her wrists on both arms.  Do they look like this was a mutual fight or are those marks of trying to defend herself against the brutality inflicted on her?
Please note we have removed the child's name per a court order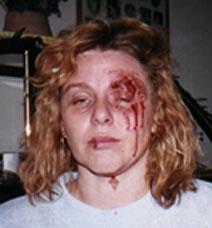 CLAUDINE DOMBROWSKI CASE, Shawnee County, Kansas. Claudine lost custody of her baby daughter  to  the man who did this, thanks to Judge James P. Buchele, who refused to permit adequate testimony at trial, shortening it to benefit his docket, and also ordered Claudine to move back to Topeka to live near the man who did this, for the sake of their "co-parenting." WHAT?! He is a man with multiple criminal convictions for violent behavior (Battery, Attempted Battery, Battery of a Law Enforcement Officer, Obstruction of Legal Process, Possession of Marijuana and violation of Open Container law), a man who has beaten and raped Claudine multiple times before and after her divorce from him, a man who has threatened to kill her and her child.
            Worse, Judge Buchele also ordered Claudine not to call the police any more without the permission of her case manager. When Judge James Buchele retired, Judge Richard D. Andersonaffirmed Buchele's previous orders, including the illegal prohibition on Claudine's being able to call the police.
Guardian ad litem Scott McKenzie deserves a substantial portion of the credit for this travesty. I ask, how in hell can this happen in the United States of America? http://www.kansas.net/%7Efreepress/7-12-01-8.html
The following is from  Stopfamilyviolence.org   Please visit there site.
Claudine Dombrowski Photos of Abuse | Stop Family Violence
- 63 visits - May 11
There is a crisis in our nation's family courts. Judges are awarding child custody to abusers and pedophiles and punishing the safe parent who tries to ...
www.stopfamilyviolence.org/pages/308 - Cached - Similar
Blogger Labels:
Help
,
MOMS
,
Protect
,
Claudine
,
Dombrowski
,
Home
,
Importance
,
Court
,
Legislative
,
Guide
,
Abuse
,
health
,
Child
,
Children
,
Courts
,
Custody
,
Myths
,
Dads
,
Domestic
,
Violence
,
False
,
Purpose
,
Petition
,
Quotes
,
Single
,
State
,
Links
,
High
,
Profile
,
Attorneys
,
Dyandria
,
Darel
,
Suzanne
,
Dewalt
,
Natalie
,
Gibbons
,
Mother
,
Katelyn
,
Merry
,
Morris
,
Debra
,
Schmidt
,
Genia
,
Stockhome
,
Katie
,
Tagle
,
Wendy
,
Titelman
,
pictures
,
Notice
,
marks
,
KANSAS
,
CASE
,
Shawnee
,
daughter
,
Judge
,
James
,
Buchele
,
testimony
,
Topeka
,
behavior
,
Battery
,
Enforcement
,
Officer
,
Obstruction
,
Legal
,
Possession
,
Marijuana
,
violation
,
Open
,
Container
,
times
,
Worse
,
permission
,
manager
,
Richard
,
Anderson
,
orders
,
prohibition
,
Guardian
,
Scott
,
McKenzie
,
portion
,
hell
,
America
,
Stopfamilyviolence
,
Stop
,
crisis
,
nation
,
Judges
,
parent
,
Similar
,
Allegations
,
convictions
,
Photos
,
html